Crisis on the EU Border
Thousands of people need help on the Polish-Belarusian border.
Thousands of people stranded on the Polish-Belarusian border are left without food, water, and the help of health care and humanitarian workers. Temperatures are dropping, and the people are surviving in tents in the forest with no idea what's going to happen to them. At least eleven people have lost their lives, and hundreds are in danger. The crisis on the EU border is intensifying, along with pressure from both countries.
What is happening on the border of Poland and Belarus?
The situation began getting complicated back in the summer, when more and more people were trying to cross the Belarusian border into the European Union. By the end of 2021, the conflict had intensified. There were about 4,000 people in the area, with Belarus not wanting to let them back into the country, and Poland rejecting their asylum applications, pushing them from its territory, and blocking humanitarian aid and the access of journalists.
The people that got stranded on the border have found themselves in a critical situation. Temperatures are low, they lack food and water, and they have often been surviving in tents in the forest even with small children. Belarus has placed these people in camps, where there are an estimated 2,000 people. However, many people are still trying to cross the European border, facing an imminent threat to their lives. Currently, humanitarian organizations do not have access to the area, as Poland has declared a state of emergency and started building a wall, and in Belarus, soldiers are preventing access.
We Are Preparing Aid Packages
The Integra Foundation is preparing aid for people on the Polish-Belarusian border in cooperation with a local partner in Belarus. We are trying to adapt to the changing situation, and we are distributing aid packages. These contain food, drinks, medical and hygiene supplies.
Join Us!
The crisis on the EU border is complicated and intensifying. Attempts at basic aid for the people in the crisis are failing on both sides. Join us. Your gift will allow families who are stranded to cope with the difficult period until the situation is resolved. You can alleviate the suffering of innocent people right away with your donation.
DONATE TO THE PEOPLE ON THE EU BORDER
Photo: © Jana Čavojská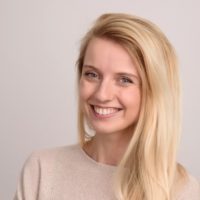 Ivana Čorbová Climate and Humanitarian Projects Coordinator
Ivana coordinates the Integra Foundation's humanitarian and climate projects. She is in contact with our partners and provides up-to-date information from the field about our activities, through which we help people affected by wars or natural disasters. Ivana also communicates with organizations such as SlovakAid in Slovakia, Ambrela - Platform for Development Organizations, or the international Integral Alliance and its members.