Coronavirus in the African Slum
The coronavirus pandemic has affected the whole world. More than 100 million people have become infected, more than 2 million people have died.  After the outbreak in Kenya and Ethiopia, we got involved in helping. We sewed face masks and provided food for the poor.
Poor sanitary conditions, poorly functioning health care, lack of water, cohabitation of large families in slum huts, little public awareness. All this can be reflected in a scenario that is still threatening the African continent.
At the Integra Foundation, we are following the development of the situation especially in Kenya and Ethiopia, where we support children in their education and help small-scale farmers. The novel coronavirus has already hit the economy noticeably; people have lost their jobs and are afraid of the virus spreading mainly through physical contact. They live in homes where there are more people together in a small space. In addition, closeness, hugs, handshakes and meeting friends are common in their culture.
Listen to an interview about the current situation in Kenya regarding the coronavirus.
How We Have Helped
Sewing Face Masks
We financially supported the sewing of protective face masks in the seamstress factory in the TAPA Centre in Nairobi. Some time ago, we equipped the workshop with the help of SlovakAid, and it contains new sewing machines. The center is located on the outskirts of the largest African slum Kibera, where an estimated 700,000 to one million people live. Our aim was to help the workshop produce a sufficiant number masks, and distribute them to as many people as possible.
Food for Children and Their Families
According to reports from our partners in Kenya and Ethiopia, food became the biggest need at the time of the outbreak of the pandemic. Since people lost their jobs and therefore some kind of earnings, families had nothing with which to feed their children. Schools closed and the children from our projects stayed at home. As long as they were going to school, they were receiving a nutritious meal daily. At home, however, they were starving, as were their families. That is why, with the help of our schools, we were providing food for the children and their families.
With Whom We Are Helping
We are sewing masks in the seamstress factory in the TAPA Centre, which we equipped some time ago with the help of SlovakAid, and which contains new sewing machines. Around 50 seamstresses work there, who normally sew uniforms for schools and companies.
In addition to the workshop, the centre also has a school and kindergarten, which take care of the education of children. These are now providing food for the children and their families. Food is also provided by other facilities that normally educate children, e.g. Beacon of Hope, St. Anna's School, Praise Gate Children's Home, the Kenya Scholarship Program, and Bishoftu Centre and Shalom Kindergarten in Ethiopia. We owe them our huge thanks.
You can also help with making masks and securing food. Donate and help those who are poorest to manage the consequences of the coronavirus pandemic.
How you can help
For example, your €20 donation will provide food aid for a whole month for a family of 5. The package includes corn flour, rice, beans, oil, sugar and tea. For a €30 donation, this family will also receive hygiene items, such as masks, soap and disinfectant gel. You can choose the amount of your contribution yourself. Every euro helps.
Create your own collection in support of sewing masks and providing food for the poor.
Tell the people around you about the possibility of contributing to the collection, and inform us about it.
Shop at www.samay.sk and support the project.
Follow us and help us spread our posts on Facebook.
DONATE TOWARDS FOOD AND MASKS FOR THE POOR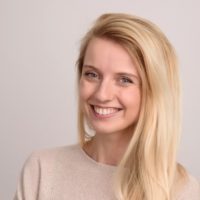 Ivana Čorbová Climate and Humanitarian Projects Coordinator
Ivana coordinates the Integra Foundation's humanitarian and climate projects. She is in contact with our partners and provides up-to-date information from the field about our activities, through which we help people affected by wars or natural disasters. Ivana also communicates with organizations such as SlovakAid in Slovakia, Ambrela - Platform for Development Organizations, or the international Integral Alliance and its members.